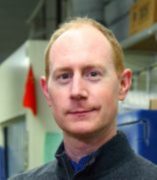 Tom Driver
Professor, Department of Chemistry, UIC
Contact
Building & Room:
3220 SELE, MC 111
Office Phone:
Email:
Related Sites:
About
Professor Driver jointly supervises CDAC students working in Thrust 4: Extreme Chemistry.
My research group is focused on the rational development of new transition metal-catalyzed methods that selectively transform simple molecules into functionalized N-heterocycles. Towards that end we are interested in (1) exploring the chemistry of azides and (2) functionalizing traditionally unreactive C–H bonds.
We have recently discovered a number of transition metal-catalyzed methods, which enable the conversion of azides to a variety of important N-heterocycles (Scheme 1). We aim to elucidate the mechanism through which these processes operate and develop new methods based on our mechanistic conclusions.